Portrait
LEU Anlagenbau AG is an innovative Swiss family company having specialised in manufacturing installations for perfect cheese curing. All these installations are developed, manufactured, assembled and programed in Uetendorf, near Thun in Switzerland, then installed and put into service at the customer's premises. Since 1991 we have been supplying cheese diaries in Switzerland, Europe and the Unites States with high-quality and the most technically-advanced robots for cheese curing.
The brand LEU Anlagenbau stands for efficient and robust machines that are elegantly designed. Our machines withstand enormous loads in difficult environments such as cheese cellars and meet the highest quality requirements. Each robot can be considered as a unique, customised machine.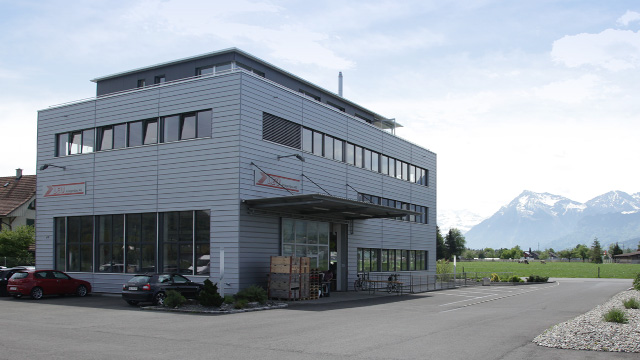 Administration and Sales
The initial one-man operation has continually expanded into a small company with just over 20 employees.
Managing director Beat Blättler (bb@leu-anlagenbau.ch)
Marketing & Sales Melanie Büchi (mb@leu-anlagenbau.ch)
Representative France Sébastien Simon (ss@leu-anlagenbau.ch)
Design
Our creative departments work hand-in-hand to improve and make workflow as user-friendly as possible. At first we have an idea, which is then developed together with other innovative ideas and our broad technical knowledge, before finally finding expression in our machines.
Department manager Thomas Zenger (tz@leu-anlagenbau.ch)
Controller design and Software development
Every day we incorporate our extensive knowledge and our longstanding experience in new projects, give life to machines and optimise each single work procedure and movement.
Department Manager Basil Märki (bm@leu-anlagenbau.ch)
Assembly and After-sales service
After commissioning a machine, we can also train the operators on site. Our customers can rely on our competent after-sales service team. Problems can be solved by directly accessing the robot control unit. Our support team supplies the customers with spare parts or intervenes directly on site.
Department manager Bruno Leu (bl@leu-anlagenbau.ch)
Support Jakob Weltert (jw@leu-anlagenbau.ch)
Administration Andrea Schläpfer (as@leu-anlagenbau.ch)
Administration Lorena Robert (lr@leu-anlagenbau.ch)
Assembly and mechanics
The precision-crafted items, as detailed in our drawings by regional partners, are crafted into a substantial machine by skilled hands. Our many years of experience show us the way to reliable machines, so that you can use your valuable time in the future differently.
Department manager Christian Hirsig (ch@leu-anlagenbau.ch)
Company video
This video shows the development of the company from its birth to today.